The BrainSTEM ProgramS
We currently have two Innovation Challenges:

​6th BrainSTEM Innovation Challenge (Metropolitan Melbourne Students) REGISTRATIONS OPENRegional Girls Innovation Challenge (In partnership with WISPP and STEM Sisters)
​
The BrainSTEM Innovation Challenge is a 12 week program designed to match up a university academic who specializes in the STEM field, with a team of four students from a high school to develop a STEM innovation with a real-world application. These students engage in 18-20 hours of mentoring sessions at the university (typically once a week) and work on their idea.
At the end of the Innovation Challenge, these students are recognised for their work with a Presentation Event where each team presents and showcases their idea to their network and the BrainSTEM community. They also become part of the ongoing BrainSTEM alumni community, with a digital platform, alumni events and further opportunities to get involved.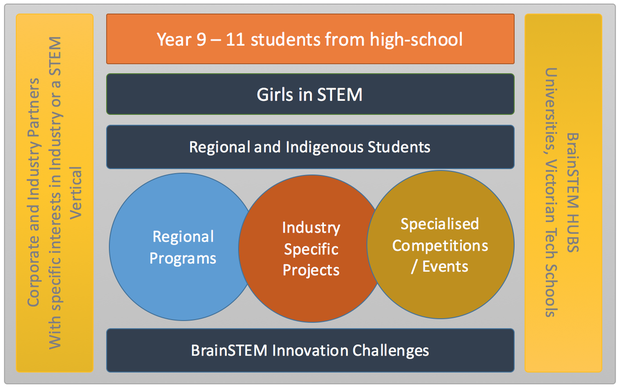 Our impact (As of Dec 2017):
- 177 students
- Over 60% participants from Public / Lower SES Schools
- Over 50% participants are girls
- 3000+ hours of mentoring
The BrainSTEM program is inclusive and not exclusive. One of the key drives for BrainSTEM is to
nurture more female STEM enthusiasts
. It doesn't necessarily mean recruiting them for STEM careers – but raising awareness and interest in subjects that are game-changers.
Get Involved
There are many ways to get involved and be a part of BrainSTEM
Student
Register for one of our Innovation Challenges
Teacher
Register your student(s) for the Innovation Challenge
Parent
Register your child for the Innovation Challenge
Mentor
Register as a mentor for one of the participating BrainSTEM Teams
Industry
Partner with us to collaborate or to host a team
Volunteer
Volunteer and join our amazing team and play a part in helping shape the future of our next generation!